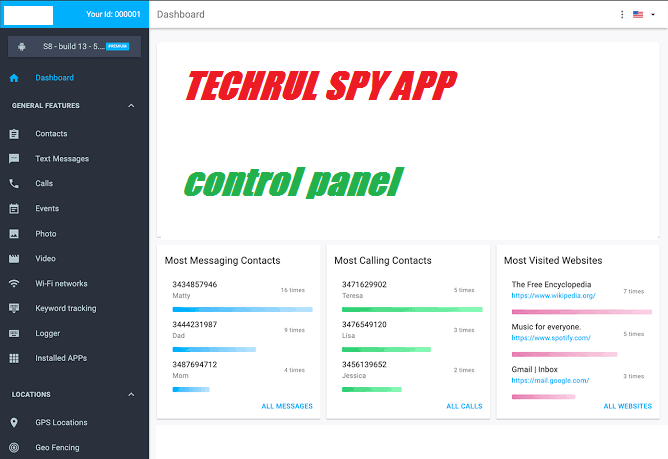 Hey, are you searching for the best undetectable spy app for Android and iPhone without access to the target phone? if yes, then the Techrul spy app got you covered.
Techrul Spy app is a mobile app that tracks all information on the target phone after installing it remotely. It will help you to keep watch on your underage children or your spouse so you can sleep without worry.
Do you often wonder what your spouse or child is doing on the phone all the time? Are you scared your spouse is cheating on you? Are your kids on the phone at suspicious times? Wouldn't it be great to be able to just listen in to their calls, read their text messages and chat and make sure nothing wrong is going on? Well, this is where this Spy app proves to be useful. After downloading the app, you will log in to your control panel and you will have access to spy on them without their knowledge.
Best Undetectable Spy App For Android And iPhone Without Access To The Target Phone
Techrul spy app allows you to retrieve the call log history to see whom the mobile phone user has been talking to, block unwanted calls and enroll them to the blacklist using the call blocker, and much more. Also, you would be able to read their text messages and social media chat (WhatsApp) without their knowledge. Guess what? everything is done remotely without touching the target phone.
What can Techrul spy app do?
The spy app allows you to remotely access the target phone and get all the essential data you need from the device. Here are the things you can do with the app:
View Text Messages
You can use this powerful spy app to know the person your spouse is texting about constantly. You can check its incoming/outgoing text messages. Even if the texts are deleted from the cell phone, the app can recover them and save a copy.
View IM Chats
Techrul spy is a powerful spy app for iPhone which can be used to read your spouse IM chats and find out what is being discussed and who it is being discussed with. Everything is done remotely, which means you don't need to get physical access to the target phone. The app also allows you to read their Facebook, Snapchat, Twitter, and WhatsApp chats.
Track GPS Location
An extremely effective GPS tracker can be handily used by anyone. The app allows you to keep an eye on current locations, however, you will also be able to track previous routes traveled so you can check where the person likes to go.
Inspect Call Logs
Techrul spy app also allows you to retrieve the call log history to see whom the target phone has been talking to, block unwanted calls and enroll them to the blacklist using the call blocker, and much more. You get the whole access to the calling data
(recipients' names, their phone numbers, time & date of the call and its duration, and other useful information).
Monitor Web Browsing
This function will help you to spy on web browsing history and check bookmarks to see which sites are more frequently visited by the person. You can even block undesirable sites from being accessed on the Android phone using the app blocking option.
Scan Multimedia Content
Spy on the pictures saved in the gallery section of the Android phone and of course incoming or outgoing pictures/screenshots sent via SMS or a chat app. Even if the photos have been deleted, you can still retrieve and check them to evaluate how appropriate those images are. The
feature perfectly suits parents concerned about the trend of so-called 'sexting' photos.
Advantages Of Techrul Spy App
It only requires five minutes to set up the app. No jailbreak or root required.
The app is cheap compared to other spy apps.
All data is securely stored and protected. Only you have access to it
all day, every day free multi-lingual help. We are eager to assist whenever.
Data about all activities on the device refreshes every five minutes remotely.
You will stay 100% undetectable.
Is Techrul Spy App Undetectable?
TSP is  undetectable as soon as it's installed. it runs in the background of the device to monitor all the activities going on in the phone.
Also, the app is one of the oldest spy apps on the internet, and it's recommended.
How Purchase The Techrul Spy App
Unfortunately, the app is not available for free download. You can only get the app after a one-time payment of $210.
Before you proceed with the payment. We encourage users to change the payment method on the page to PayPal as the system might decline your card.
Tap HERE to make payment with PayPal.
You will be taken to a page where you will enter your name and email address.
Don't pay with card, tap on "Pay With PayPal".
That's all. Proceed and make the paynent. And make sure you enter the correct emails address because that where the app will be sent.
If you don't have PayPal account, tap HERE to contact customer care for an alternative method of payment.
After making the payment, you need to check your inbox after some minutes for the welcome email. It takes a little time in most cases though but do not panic, we are always active to assist you. Ensure you check both Inbox and Spam folders. The welcome email contains the link to your own Control Panel and Login details. Simply follow the link and login to your Control Panel, where you will find installation procedures. It will walk you through the installation process and help to sync up the new device.
Conclusion
In this article, you've seen the best undetectable spy app for Android and iPhone without access to the target phone. Use the comment box to drop your questions.