If you already pay for iCloud, it doesn't make a lot of sense for each of your family members to have separate subscriptions too. Instead, you may want to find a way to share it with all of them without having to pay an extra dime.
While you can simply share passwords on streaming services like Netflix, that's not always feasible with a service like iCloud. Once you set up an iPhone or a Mac, you always have to log in to an iCloud account, which makes it difficult or even impossible to share an account.
To counter this dilemma, Apple introduced a feature dubbed Family Sharing to help with sharing iCloud with other members of your family. In this article, I'll show you how to share iCloud storage within your family without paying an extra dime per person.
What Is Family Sharing on iCloud?
If you've been exploring the best ways to distribute your gigantic 2TB iCloud storage plan across your entire family, you must have heard of the Family Sharing feature. What exactly is Family Sharing on iCloud and how does it work for iPhone users?
Family Sharing is a feature Apple introduced to make it possible to share access to certain Apple services without having to share passwords. The members in a Family Sharing group can access those services directly from their devices like they've purchased them too, even if they haven't.
While you can share many Apple services: Apple TV+, Apple Music, Apple Card, Apple Books, and even Apple Store purchases, the one that always makes headlines is iCloud storage plan sharing, thanks to its functionality.
With it, you only need one person to purchase iCloud storage, as long as you're less than five in the family. Having up to five people share a service that a single person paid for is beyond impressive; only a few other services can match up to that.
If Family Sharing for iCloud storage sounds very much like a good idea, you may want to learn how to go about it. The following sections will detail how to share iCloud storage among iPhones and Macs in your family without having to pay separate subscription fees for each of them.
How to Share iCloud Storage
If you've paid for an iCloud+ subscription, you can have everyone else use it directly from their iCloud accounts without paying extra. As long as you add them as part of your family from the Family Sharing feature, you're always good to go.
You can share iCloud storage as long as you're paying for it. Thus, the 50GB, 200GB, and 2TB plans are all available for Family Sharing among five different family members. Sharing it also shares all the perks that come with each storage plan too.
Now that you know sharing iCloud storage is possible, it's time to get into how to share it among members of your family. Here are the steps required to set up iCloud storage sharing on your device.
Since Family Sharing is available to any Apple device that uses iCloud, the steps for activating the feature will differ based on the device you're using. If you're on an iPhone, iPad, or a recent generation iPod Touch, you can follow the steps below;
Jump to your device's Settings app to get started.
From there, tap on your account name.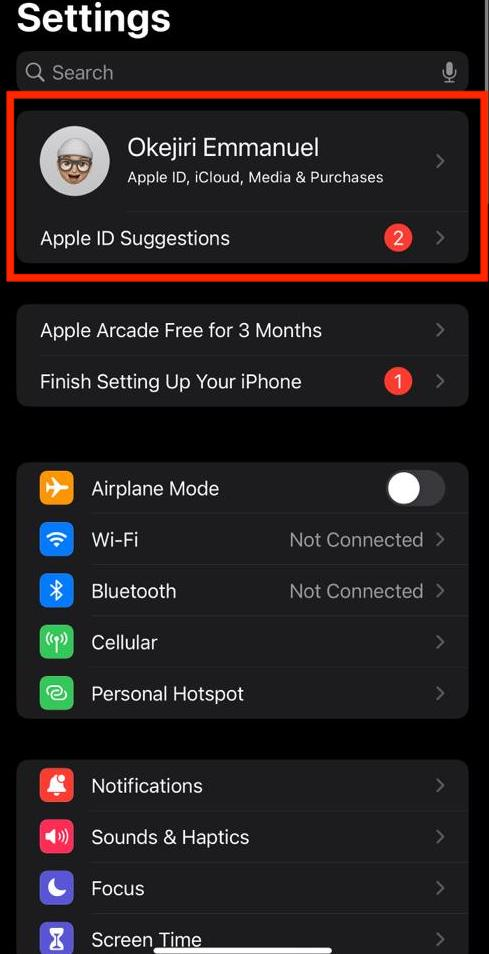 Scroll down to select Family Sharing from the many options in the menu.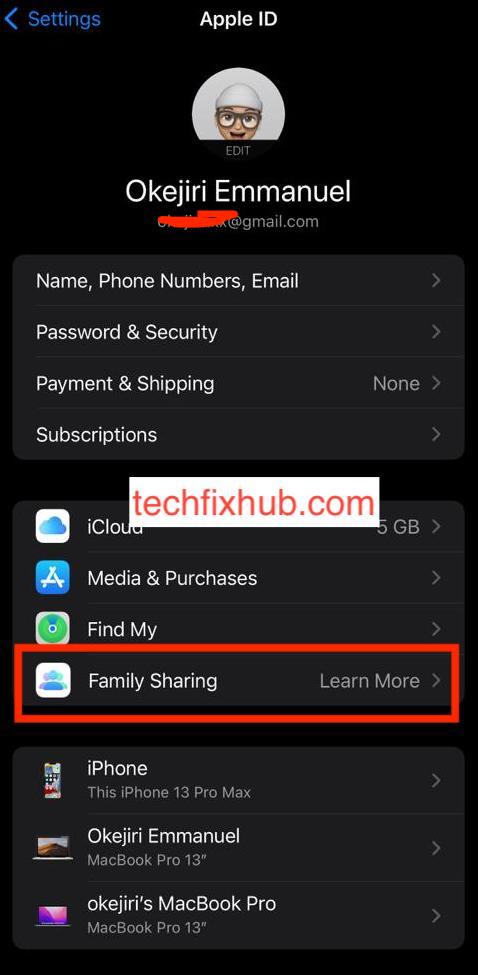 Since you haven't set up a family previously, you should see the "Set Up Your Family" option; select it to continue.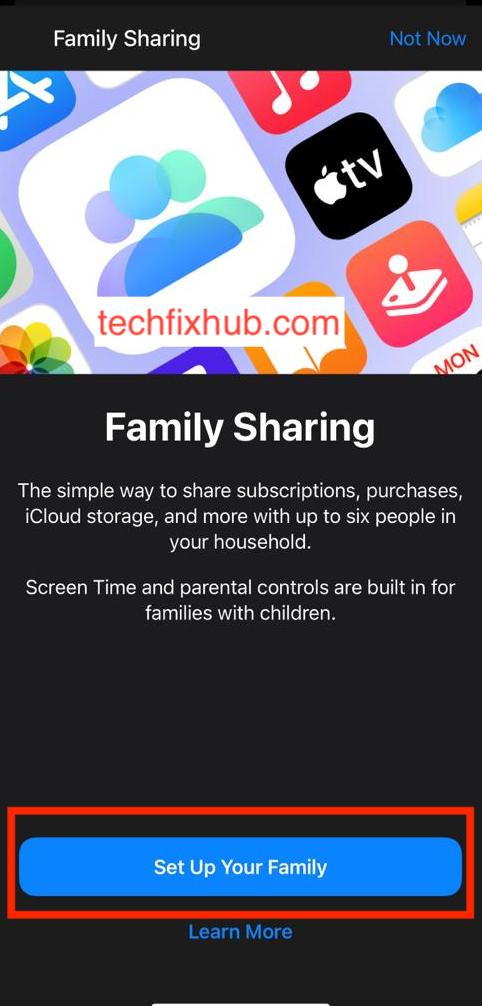 The instructions that follow should guide you towards adding members to your family.
On a Mac, however, you can start from System Preferences, which is the Mac equivalent of the Settings app. From the utility, click on the Family Sharing option and confirm which Apple ID exactly you intend to use for managing Family Sharing.
Note that the organizer of the family will have to pay for the purchases made by the family. To be able to set up a family, you must be an adult and have a valid payment method connected to your account.
After setting up Family Sharing, you can proceed to share your iCloud subscription plan with the members of your family that you've added. Before adding everyone you know with an Apple ID, you should be aware that you can add only five people at most.
After adding the five members of your "family" (mostly your friends), you can head back to the Family Sharing options on the Settings app to share iCloud storage. To get there, you can head over to the Settings app, select your Apple ID, and then the Family Sharing option.
When you get there, find and select the iCloud+ option and you'll see the steps necessary to share your data plan. You should probably consider telling the members of your family about the change, so they can switch from whatever they're using to the new iCloud storage plan.
You should also note that the family members you add in Family Sharing don't have to be your real family members; people have always used the loophole to share iCloud storage with their friends. Since you can always remove and add other family members, you can be as flexible as you want with this feature.
READ MORE: What Is Media on iPhone Storage?
Conclusion
While Netflix pioneered password sharing, there's something that appeals to the general public that Apple started first: Family Sharing. You can only share your iCloud storage with five others, but do you think 200GB of cloud storage is enough for 20 people to share?
Of course, the usage of each member of the family contributes to the plan's limits. For instance, two people using up to 100GB of cloud storage on the 200GB plan will effectively render it useless for everyone else in the family. However, it does have its strengths, like sharing a photo album with the rest of the family.