iPhone contacts missing no names only numbers: It is one of the major issues the iPhone user are currently facing, most especially after updating the latest iOS. It can be a disaster if contacts are missing from your device without backing up your device.
Generally, your iPhone presents no issues when you need to use it to contact somebody you know. You can undoubtedly pull up your contact rundown and see the names and numbers of every individual who is a major part of your life. However, consider the possibility that you take a stab at pulling up your contacts, and you can't perceive any of the names. This experience can be completely disappointing, and it does here, and there occur with Apple gadgets.
Here is what someone posted on the Apple discussion forum.
No luck with that either. I am sitting duck as of now:( Don't know what to do. Most of my work contacts were on the phone and I can't seem to sort it out:( I have about 1000 odd contacts, out of which almost half are saved as just numbers now, and there are others with the contact names sawed off(Partial names). I tried toggling the contacts on and off in gmail and iCloud and still no result.
Why Have My Contact Names Disappeared?
Before you look for the solution to your missing iPhone contacts names, it's good for you to know all the potential reasons your contacts suddenly disappeared so you can try not to lose contacts ever again.
Software upgrade
Maldeletion.

Male deletion is just a simple human error. Sometimes, you may accidentally hit the delete button when you really mean to push other buttons.

iPhone jailbreak.
Virus causes.
Hardware issues.
iPhone Contacts Missing No Names Only Numbers (Fixed)
Your contact names have not disappeared permanently; they are just not showing up appropriately. Now, you can try the workable solutions below to fix the issue quickly.
Toggle Contacts in iCloud Off and On Again
One of the easiest ways to fix this annoying issue is to toggle Contacts in iCloud on and then off again.
Open your iPhone and fire up to Settings.
Go to iCloud and turn the Contacts toggle off.
You will be prompted to erase or keep recently synced contacts. Choose "Delete from My iPhone." (your contacts will not be removed from iCloud).
Return and turn Contacts on, and your iCloud contacts should now be back on your device.
After completing the steps above, hopefully, your iPhone contacts names will slowly come back again.
Restarting the device helps a lot to fix common bugs on iPhone. Most users find it useful. If you are bothered with the missing contact names, the very first thing to do is restart your iPhone.
Sign Out of iCloud and Sign in Back Again
Some people from the Apple Discussion Forums recommended signing out and sign in back to iCloud on your iPhone. Probably, This will be the solution you have been looking for try.
Most people who encounter this issue find that contact names just missing from the list and messages, but when you open WhatsApp, the names still there. So, you can have a try to edit any contact in the app, or just add more contacts to let the contacts database get refreshed.
Network connection error may lead to iPhone contact's name missing. Therefore, resetting your iPhone network settings may be the easiest way for you to fix this issue.
Go to Settings.
Navigate to General.
Tap on the Reset Button.
Select Reset Networking Settings.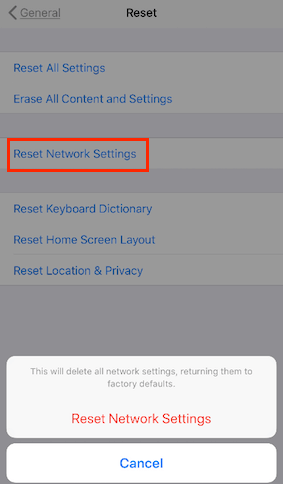 NOTE: Only use the strategies listed in this article if you are not anxious to tackle this issue. It might take a little time for the issue to be fixed permanently.
Conclusion
iPhone contacts missing no names only numbers: In this article, you have seen all the workable methods to fix this issue. However, use the comment box to drop your questions. Cheers!