Just got my Apple watch and have been trying to pair with my iPhone, but Apple Watch Won't pair without update.
You need to see the frustration on my face! Yes I got it, I could see and feel the distress, frustration and disappointment lurking around your face.
Probably you are trying to pair your Apple Watch with your iPhone but you keep seeing the error message that you needed to update first before you can pair, and yet you still can't even update.
Well, in this article I will show you a step-by-step guide of Setting up your Apple watch that won't pair without updating it.
Apple Watch won't pair without update, how do I fix this?
Well, after a series of in-depth research, I have found some solution to it. Some of which are removing and erasing watch from your iPhone.
Basically, when running an outdated version of iPhone and you are trying to pair your Apple watch with your iPhone, you are more likely to get an error message that says "Update Required To Finish Pairing"
Funny enough you might decide to update to the latest version but then another error messages that says "System Update failed" pops up.
And damn you are so disappointed, you are getting frustrated maybe. Well, in this article am going to be listing all the possible solutions to fix your dilemma.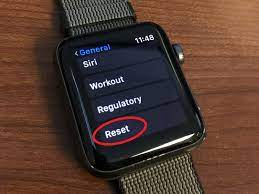 When you aren't entering the right PIN, Apple watch automatically can not be able to pair to your iPhone. To reset PIN, first go to the "Settings" Icon on your Apple Apps page.
Then click on "General" Then go down and click on "Transfer iPhone" and then click on Reset. they will ask you to put your PIN, insert a New PIN and reset.
After resetting your pin, Your Apple watch would be able to pair with no update. But if it doesn't, then you should move on to the next step.
Restart Apple Watch And iPhone
Restarting both device would clear any software bug that is preventing Apple Watch not to connect with your iPhone.
To restart your Apple watch and iPhone, first long press the power button which is usually at the right side of your iPhone beneath the volume key, on the options displayed, select "Power Off".
Then your Apple Watch power button is usually at the right-hand side of the body, long press the power button and on the options that pops up, select "Power Off".
Allow Apple Watch And iPhone to black out and cool, usually for like 30-60 seconds then restart both device by long pressing the power button of the both.
Make sure the two devices are within range of each other, this way your Apple watch would automatically pair to your iPhone without issues. But if it doesn't, then move on to the next step.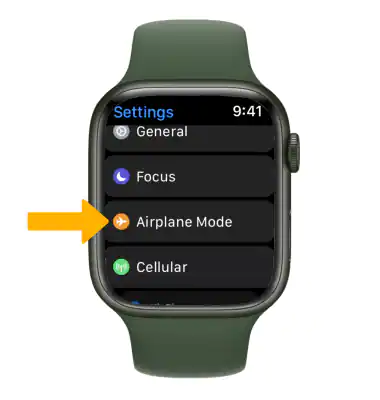 Pairing Apple Watch with iPhone requires cellular data and / or Wi-Fi to connect.
So if your Airplane Mode is turned on your network signal automatically turns off disabling your Wi-Fi and Data access Key.
To turn Off Airplane Mode, swipe down your iPhone and locate Airplane Mode, Click on it to turn off, then turn off Bluetooth if it was on all this while and turn back on.
Keep Both Device Within Reach
There is a certain proximity reach that your Apple Watch is set to before it can connect with your iPhone.
If your Apple Watch is not within this range automatically your Apple Watch Won't Pair.
This is because Bluetooth is a wireless connection that is set to easily connect two devices, headphones, and Mp3 that are within range.
To fix this, on your Bluetooth and keep both Apple Watch and iPhone close to each other and watch it effortlessly pair to each other.
However, if after trying out this step and your Apple Watch still refuses to pair, then you should try this next step.
Turn On Apple Watch Bluetooth and Wi-Fi
The problem could be that your iPhone Wi-Fi and Bluetooth is on but your Apple Watch isn't.
The best way is to make sure that both your iPhone and the Apple Watch has their Bluetooth and Wi-Fi On. This would enable both device to connect to each other without issues.
To turn on Bluetooth and Wi-Fi on your Apple Watch, Click on the crown button above the "Power Off" button, then swipe the apps to find your settings.
Click on the settings, go to General locate your Wi-Fi, switch "On" and "Off" and "On" again then locate Bluetooth and repeat the steps that is "On" and "Off" and "On" again.
While doing this make sure your iPhone is within range, after that, your Apple Watch should be able to pair with your iPhone.
Another way of clearing software bug that is possibly causing the glitch in Apple Watch not pairing with your iPhone is by resetting and erasing Apple Watch contents.
You can either reset your Apple Watch on your iPhone or choose to reset with your Apple Watch, either ways it will surely work out well as supposed.
But before Resetting and erasing your Apple Watch contents, I will recommend you to first backup your Apple Watch so you don't completely lose the important contents on your Apple Watch.
Here is how to reset Apple Watch on Your iPhone. First go to the Watch App on your phone home page screen, click on general and tap on the reset button.
Then you can choose "Erase Apple Watch Contents and Settings."
You can also do this by unpairing the watch and pairing back, then locate your watch at the left-hand side at the bottom of your screen, then at the top , Click on "Apple information" then tap on "Unpair Apple Watch" this will automatically unpair and erase Apple Watch contents.
Here is how to reset with your Apple Watch, first press on the crown button on the side of your Apple Watch, to display your App Page screen.
Go to settings and tap on "General" then scroll down and tap on reset, you will be redirected to another page where it will ask you whether you want to erase all contents and settings, Click on it and input your passcode / PIN in the next page that shows up.
Now you have reset your Apple Watch, and by now I am certain your Apple Watch have been able to pair with your iPhone without updating.
READ MORE: How to Customize Apple Watch Face with Photo
Conclusion
Thank you for following this article to the end, and now that you have been able to fix "Apple Watch Won't Pair Without Update" what do you have to say? 
If you have anything to say we are right there at the comment box.