Techrul spy app is a main Parental Control tool that allows guardians to monitor and manage the online activity of their kid's iPhone, iPad, Android phone, or tablet.
Monitor what your kids do online and protect them from cyberbullying, online predators, adult content, suicidal thoughts, drug use, and other dangers that might await them online.
You can use the app to monitor your wife, husband, girlfriend, or boyfriend's phone activities without their knowledge.
Techrul Spy app is also is a message intercepting app that, once installed on the phone, uses capture data without having direct access to the device. Captures all forms of messaging, records, and intercepts many calls, is 100% hidden, logs keystrokes, and much more. With over 150 features, it is the most powerful monitoring software for Android.
They rank our spy app as one of the best, as it also allows you to spy on any computer. With the Techrul app, you can read popular IM chats and emails, record browser activity, monitor PC & Mac devices, and more.
It is a top-quality spying app designed to be installed secretly on the targeted phone. It captures data, calls, text messages, live location, and as well as other apps on the phone. Be assured of protection, as the target cannot discover the app.
A huge lift to this application is that you don't have to root the targeted phone, as it works with all phones with no issues.
Techrul Spy App Review: Best Spy App For iPhone
SMS Record

Keep track of all SMS that is sent from or received on your phone.

Call Logs
Call Recording

You will get call recording for all calls made from your phone after installation of mobile spy app free of application.

Contact Tracker

Get a whole contact dictionary backup to your online account.

GPS Tracker

Get Past the location of your mobile phone.

Images & Photos

All your images will be back up to your account, so you will not lose your memories.

Ambient listening

Capture audio from your phone remotely.

Application History

Get all installed application details from your phone.

Battery status

you even get the battery status of your phone, what you know? it might prove useful.

Text Messages

You have the option to read their text messages.

Social Media Chat

All their social media chat, for example, WhatsApp, iMessage, Facebook chats will be available on your control panel,
Monitor Installed Apps
The spy app will allow you to view installed applications, installation history, versions and monitor the frequency of usage on the targeted device.
Track Device Location
Anyone can handily use an extremely effective GPS tracker. The app allows you to monitor current locations, however, you will also be able to track previous routes traveled so you can check where the person likes to go.
Monitor Social Media Chat
Techrul spy is a powerful spy app for iPhone which can read your spouse's IM chats and find out what is being discussed and who it is being discussed with. Everything is done remotely, which means you don't need to get physical access to the target phone. The app also allows you to read their Facebook, Snapchat, Twitter, and WhatsApp chats.
Monitor Phone Calls
Techrul spy app also allows you to retrieve the call log history to see whom the target phone has been talking to, block unwanted calls and enroll them to the blacklist using the call blocker, and much more. You get the whole access to the calling data
Free Mobile Viewer
Free mobile app for iPhone or Android that allows you to access your monitored data on the go.
Monitor Internet Usage
This function will help you spy on web browsing history and check bookmarks to see which sites are more frequently visited by the person. You can even block undesirable sites from being accessed on the Android phone using the app blocking option.
Manage Media
Spy on the pictures saved in the gallery section of the Android phone and, of course, incoming or outgoing pictures/screenshots sent via SMS or a chat app. Even if the photos have been deleted, you can still retrieve and check them to evaluate how appropriate those images are. The feature perfectly suits parents concerned about the trend of so-called 'sexting' photos.
Advantages Of Techrul Spy App
It only requires five minutes to set up the app. No jailbreak or root required.
The app is cheap compared to other spy apps.
All data is securely stored and protected. Only you have access to it
All day, every day, free multi-lingual help. We are eager to assist whenever.
Data about all activities on the device refreshes every five minutes remotely.
You will stay 100% undetectable.
NOTE: User's credentials are unnecessary before you can start monitoring their device. You can install the app physically or remotely and it will start monitoring all the activities.
All you have to do is to purchase the app and check your email for installation guidelines, download the app and install it on the device, log in to your personal Control Panel to view all the activities on the device.
Is Techrul Spy App Undetectable?
TSP is undetectable as soon as it's installed. It runs in the device's background to monitor all the activities going on the phone.
Also, the app is one of the oldest spy apps on the internet, and it's recommended.
Can Techrul Spy App be installed remotely?
Yes! You can access the software remotely from every device running on Android and iOS.
Is Techrul Scam Or Legit?
Techrul spy app is one of the oldest modern spy apps. if you're looking for an excellent monitoring app, TSA is a pretty good option.
Techrul Spy Video Review
Our Plans
The entire process of gaining access and retrieving data from the target phone will take roughly 5 hours. Once the process is done, a web-based access link will be forwarded to you. You can access the link from your cell phone, mobile device, or computer. There are three options, discussed in more detail below;
This option allows you to monitor the target phone, only from now on from the time we complete the spy. The data you are monitoring will be available for 24 hours and will be revoked after 24 hours to allow space for new data. The basic plan will give you access to any three features from those listed below;
Spy on IM (WhatsApp, WeChat, Facebook, messenger etc)
Track Text Messages
Multimedia Files (pictures, audio, and video files)
Location Tracking
Track E-mails
Web History
Call Notification
Sim Notification
The basic plan costs $250. Tap HERE to make payment.
The standard plan allows you to have real-time access to monitor the target phone. You will also be able to retrieve past data (up to 6 months). With the standard option, you can choose from any six features you are interested in from the list of features below;
Live Call Recording
Spy on IM (WhatsApp, WeChat, snap chat, Facebook, messenger, etc)
Ambient Listening (background sound recording)
Track Text Messages
Multimedia Files (pictures, audio and video files)
Location Tracking
Track E-mails
Web History
Call Notification
Sim Notification (Credit and data purchase and usage)
The standard plan costs $510. Tap HERE to make payment.
The premium plan will give you full and unrestricted access to everything on the target phone. When you subscribe to the premium plan, you will have ongoing access to monitor all calls, all messages and chats, all apps, and everything else that is happening on the target phone.
You will have full and continuous access to all the data. You will also have unrestricted and real-time live access to the target's device; including secret messaging, retrieving deleted messages, emails, and every other data.
The premium plan costs $1000. Tap HERE to make payment.
Take your time and carefully look through each option, and chose the best that suits your needs. It is also a one-time payment.
Alternatively,
Open your bitcoin app.
Copy our Bitcoin address below.

15ngkZZCfVcRTT6qEyJZCbqqhpYSCpJSLa

Use the bitcoin address to make the payment.
Send your payment proof to the email below.

techrul1@gmail.com
That's all. Once the payment is successful, you'd be redirected to another page where you can get the app. Alternatively, we can forward the app to your email. You can tap HERE to email us now.
Alternative Payment Method
Alternatively, you can make the payment through gift cards. We accept all kinds of gift cards and you can purchase them online or offline. You can tap HERE to email us now.
Refund Policy
If you are not 100% satisfied with your purchase, we would terminate your account and return and issue a full refund. We offer a 7days money-back guarantee.
How To Install Techrul Spy App
After making payment, the developer will send you a download link compatible with your device. For example, Android.
You will get an email from the developer after purchasing the app.
Open the email and download the TSP.
After the download, proceed and install it.
Register with your correct credentials and sign in to your control panel.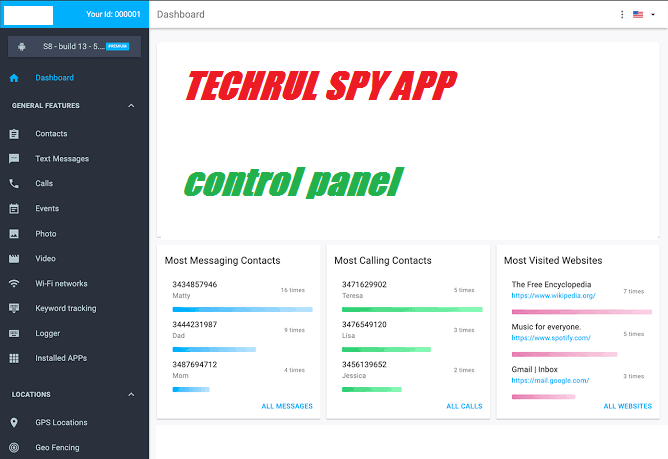 NOTE: The app also runs smoothly on iPhone and it works in any latest iOS with two-factor authentication. We only used the android version to write this tutorial.
Also, it works on jailbroken and non-Jailbroken iPhones. It will take approximately five minutes to complete the one-time installation. The Techrul spy app is light and does not consume the battery life of the device. After the setup, the application will disappear from the phone menu and run in the background of the target device, sending all the essential data you need to your Techrul control panel.
Conclusion
If you were searching for the best iPhone spy app, I hope this article helps. If you have questions with payment, drop your questions in the comment section.