An excessively loud alarm will always startle you, jostling you back to reality rather unpleasantly. Also, when your alarm volume is too low, you'll miss it a lot of times since you want it to be loud enough to wake you up. The default volume is typically too loud or too low.
If your iPhone's alarm volume is either too loud or too low, there are a couple of fixes you can try to work around that. However, there are times when the obvious workaround doesn't work, or when you don't even know them to start with.
In this article, you'll learn how to change alarm volume on iPhone to ensure your device rings at a comfortable volume level every time. Also, you'll learn why your alarm may be too loud or too low and how to create an alarm correctly on iOS.
How to Set an Alarm on an iPhone
You can only worry about your alarm not sounding as loud as it should if you've set it in the first place. To ensure the alarm is even ringing, you need to learn the correct way to set an alarm on your iPhone. Without further ado, here are the steps required to set up your iPhone's alarm feature.
READ MORE: How to Make iPhone Alarm Louder
Launch the Clock app and head over to Alarm
To set an alarm on your iPhone, launch the Clock app on your iPhone. The app is represented by an analog clock icon that always updates the time to match the correct one. It has a wide variety of crucial functions, and the alarm feature is only one of them.
After launching the Clock app, you'll need to head over to the Alarm tab to start setting an alarm on your phone. The tab is clearly labeled "Alarm," and you only need to tap on it to get started with setting your alarm.
Choose the necessary settings for your alarm
Once you're in the alarm tab, tap the "+" button to set a new alarm on your iPhone. Once you tap on the button, you'll need to set a time for the alarm to sound. You'll need to set the time in hours and minutes and specify AM or PM; ensure you get the timing right or you might have your morning alarm sounding by evening.
After setting the time, select if you want the alarm to repeat and how often you want it. If you don't want a recurring alarm, simply select "None" from the Repeat options. Next, you'll have to name your alarm; could be as simple or complicated as you want, it's just a name.
Then, choose a sound that should play when it's time for the alarm to ring. Here, you should ensure you select one of the numerous sounds. Selecting "None" will only vibrate your phone when it's time for the alarm to ring; it won't play any song in actuality. You can then choose if you want there to be an option to snooze the alarm.
After entering all the necessary details, hit Save at the top right corner of the screen to save your alarm. If you set up your alarm this way, it should play a sound when it's time you set for the alarm to ring. If it doesn't, there's a problem you should consider fixing using the suggestions in the following section.
How to Change Alarm Volume on iPhone
If your alarm still sounds alarmingly high or ridiculously low after following the steps from the preceding section, there's a problem. Oftentimes, you'll be able to fix it yourself by digging into the settings, and occasionally, you may have to consult the experts for one.
Your iPhone has volume buttons that you use to modify how loud it plays sounds. However, those volume buttons aren't set to control how loud your alarm sounds; rather, they control system notifications and media sounds.
If you need to change your alarm volume on your iPhone, you'll need to head right into the Settings app. From there, scroll down until you see the option that reads "Sounds," and tap on it. That should reveal a sea of sound options that should help you modify how different sounds behave on your iPhone.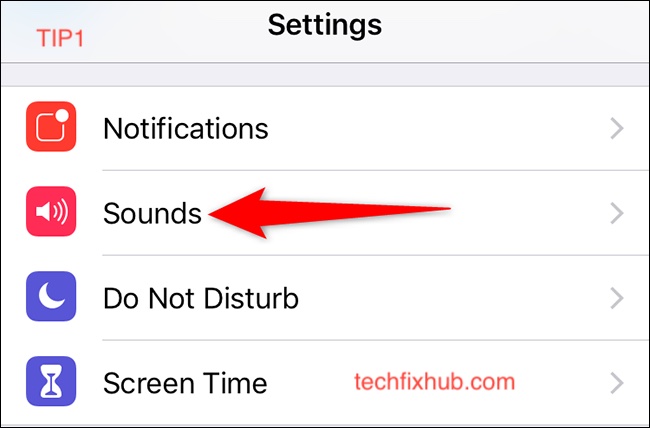 When you get to this page, look around for a slider labeled "Ringers and Alerts." If your alarm volume is too low, drag this slider to the right, and if the volume is too high, drag it to the left until you think it's comfortable for you.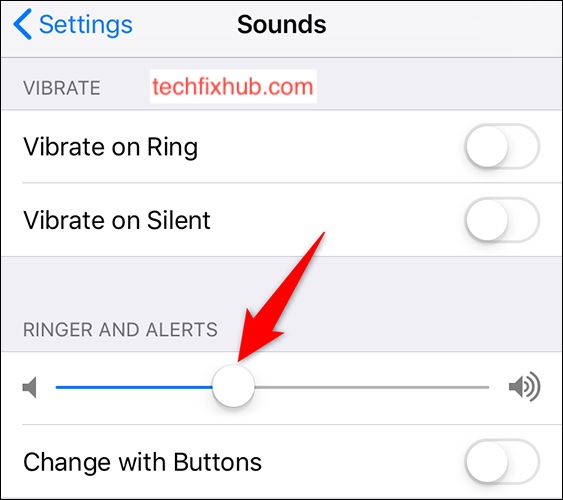 If you don't want to dive into the Settings app each time you need to modify your iPhone's alarm volume, you can set it to use your volume buttons to change it instead. From this page, press on the toggle with the "Change with Buttons" option, and Ringers and Alerts should start appearing as part of what your volume buttons can control.
If the above doesn't seem to work for you, it's almost certainly an issue with the speakers. The iPhone's speakers playing any of the alarm sounds on full volume should be loud enough to startle anyone who isn't half dead. If it's not working that way for you, you may want to see a technician for a possible fix.
Another tip to keep in mind is never to set your iPhone's alarm sound to "None." By setting it to that option, you're technically informing your iPhone not to play any sounds when it's the time you set for the alarm to ring. Instead of your phone waking you with an annoying sound, it will only vibrate, which isn't really what you want.  
READ MORE: Alarm on iPhone Not Working – Fix

READ MORE: Volume on iPhone Not Working – Quick Fix
Conclusion
Your iPhone is a loud enough machine to serve as a personal alarm clock. If you tend to sleep deeply, however, you may want to turn up the sound a bit to ensure it's loud enough to wake you from dreamland, if it ever has to do that. This article shows you exactly how to change alarm volume on iPhone.