Facebook-owned WhatsApp introduced a new feature to the app recently. It's the use of emojis to react to WhatsApp Status. The emoji was first introduced on Facebook and thereafter used on Instagram. All these apps that are stated are owned by Meta. Emojis are a lot of popular these days. It is widely used because it portrays human expressions. 
Reaction notification is a feature that allows a user to respond to a WhatsApp message with an emoji. Reactions are emojis that appear with a message instead of a separate message. They provide a quick way to respond to a message without cluttering the chat and also allow users to express their emotions.
How To React On WhatsApp Status
Here's the step-by-step process of using emojis to react to a WhatsApp Status.
1. Download the latest version of WhatsApp. If you have one installed on your phone, make sure it is updated.
 2. Swipe up on the status you want to react on. Eight different emojis pop up.
 3. Select the one best represent your reaction.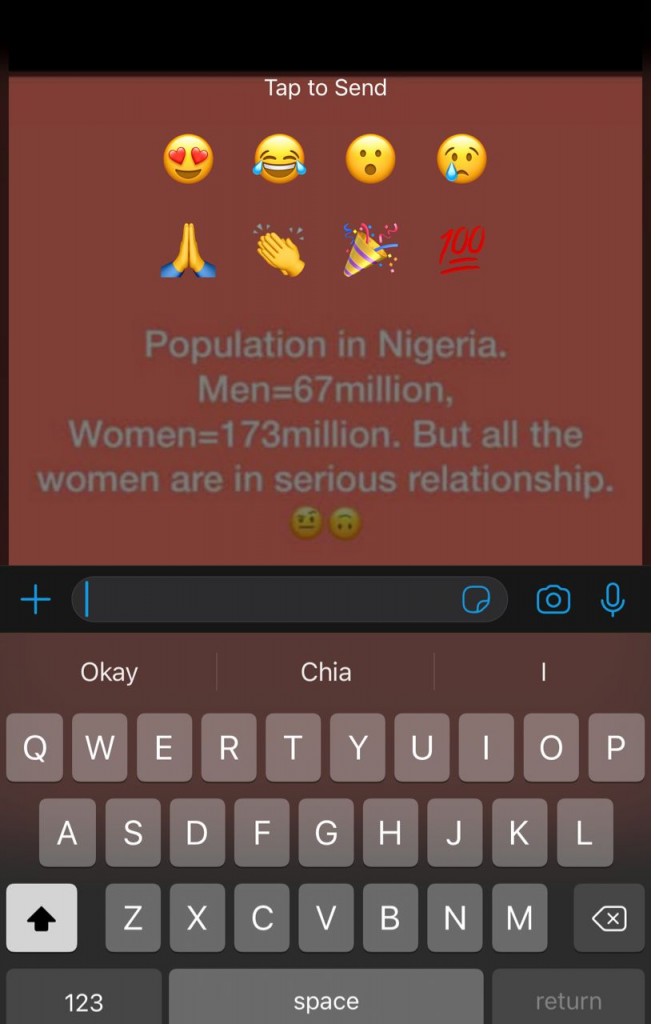 4. The emoji is instantly sent to the poster as a message.
However, making use of emojis is not the only way to react to WhatsApp statuses. You can also react by typing out your message. To do this;
 1. Swipe up on the status you want to react on. Ignore the emojis that pop up.
2. Type out your message on the keyboard
3. Click on the send button
4. It instantly sends your message to the poster.
If the emoji you want is not part of the eight emojis that usually pop up, then here is a way to look for your ideal emoji.
1. Swipe up on the status you want to react on. Ignore the emojis that pop up
2. On the top left corner of your keyboard, tap on the emoji icon. It brings out a lot of emoji
3. Select the one that quite represents your reaction.
You can also do it this way to add additional reactions. Tap on the '+' button at the end of the reactions display. From there, you'll be able to add any emoji you wish as a response.
How To React To WhatsApp Messages.
This feature was also introduced to WhatsApp lately. You can now react to WhatsApp messages using emojis. To do this;
1. Long press on the message you want to react to. A row of emojis pops up.
2. Tap on the emoji you want
3. The sender sees the emoji right under the message.
Note that reactions to disappearing messages will disappear when the message disappears. You also cannot hide reactions or the number of reactions. Sometimes, removing a reaction might not be successful. Your recipient might have seen the reaction long before you change or remove it. Also, you can only react to one message at a time.
To change your reaction;
1. Long press on the message you want to react to. A row of emojis pops up
2. Tap on the emoji you want as a replacement
3. The emoji instantly replace the one you used before.
To remove your reaction;
1. Long press on the message you want to react to. A row of emojis pops up
2. Tap on the emoji to remove it.
Note that they will not notify the person when you remove the emoji. However, they might have seen your reaction before you remove it.
Different Emoji Reactions On WhatsApp
The main six emoji Reactions include;
1. Love
2. Laughter
3. Tears
4. Surprise
5. Sadness
6. Gratitude
Other emojis that you can also find on WhatsApp include;
Thumbs up
Red heart
Laughing emoji i.e., face with tears of joy
Surprised emoji i.e., face with mouth open
Sad emoji i.e., a crying face
Thank you emoji i.e., folded hands
Why Can't You React To Messages on WhatsApp?
As stated earlier, WhatsApp just introduced this feature of reacting to messages. So if you can't do this on your mobile device, it means you've not updated your WhatsApp to the latest version. This feature is not available for the old versions.
If you're using an iOS device, you can update WhatsApp by following these steps:
1. Visit your App Store
2. Click on the profile icon
3. Select WhatsApp
4. Click on "update"
However, if your WhatsApp has already been updated and you still don't have access to this feature. Then the feature has not been rolled out to you yet. So how do you fix this?
1. Uninstall and reinstall the app. Note that the cache also gets cleared with it
2. Wait until you have access to the reactions update.
How Do You Change The Colour Of A Reaction On WhatsApp?
Most emojis are available in different skin colours. When you want to change the colour of your emoji, click, and hold the emoji you wish to use. Select the colour you want. And then, you are done.
How Do You Change The Colour Of Apple Emojis
1. Go to "Settings"
2. Click on "Accessibility."
3. Select "Display and Text Size."
4. Scroll down to "Color Filter"
5. Toggle the slider so it is can be turned on
 6. You can select between "Grayscale," "Red/Green Filter," "Green/Red Filter," "Blue/Yellow Filter," or "Color Tint." You can also adjust the colour intensity. Now, your emoji colour is the colour of your choice.
Related Articles
How To Reply Unknown Person on WhatsApp
How To Prevent Someone From Adding You To WhatsApp Group
If I Pin Someone On WhatsApp Will They Know?
How To Listen WhatsApp Audio Message Without Sender Knowing
Conclusion
You might think that reacting to WhatsApp status and messages might be different on Android and iOS devices. The features do not differ, so the processes are not different. You can go through the article once again to understand this feature and how it works.